Improving Sleep Quality After Brain Injury
Sleep disturbances are a common occurrence after brain injury. In this webinar, we will discuss:
The prevalence of sleep disturbance after brain injury.
Effects of poor sleep quality on physical and mental health.
How to create a sleep kit.
Non-pharmacological interventions to help improve sleep.
Presented by Christopher Yang, DrOT, OTR/L
Christopher Yang is an occupational therapist who currently works at both Robert Wood Johnson University in New Brunswick and Riverview Medical Center in Red Bank. He graduated with his doctorate of occupational therapy from the University of the Sciences in 2016 and started off his career as a travel therapist. He has experience working in school based, acute care, inpatient rehab, inpatient psych, skilled nursing facilities, and outpatient therapy. He is passionate about neurology and brain injury and has previously worked as the lead stroke therapist at a comprehensive stroke center in NY. He is interested in holistic and alternative medicine and actively explores non pharmaceutical interventions to assist with his patient care.
and Presented by Nabila Enam, OTD, OTR/L, RYT
Nabila has a Bachelor of Science in Health Science, a Master of Occupational Therapy from the University of the Sciences, and a Doctor of Occupational Therapy from Salus University. Nabila also has a specialty certification in Health and Wellness from Salus University. Before transitioning to academia, Nabila worked as a full-time occupational therapist for many years. Most of her work has been with long-term care in community re-entry with the adult traumatic brain injury population. Her clinical experiences also extended to inpatient and acute care facilities. She has served as a Senior Occupational Therapist. She continues to work as a per-diem therapist at a local hospital. Her research interest is in sleep and complementary integrative rehabilitation medicine. She has several publications on the topic of sleep. She also has presented at national and state levels on sleep, yoga, and traumatic brain injury.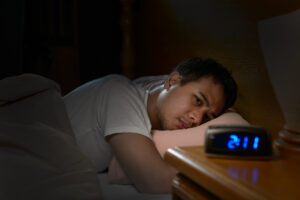 Wednesday, May 24, 2023
12:00 PM
Presented by
Christopher Yang, DrOT, OTR/L
& Nabila Enam, OTD, OTR/L, RYT
Webinar Library
Access a full library of webinars and other resources for individuals with brain injury, caregivers, and professionals, by visiting our resources page.
We're here to help. Call the Helpline at 1-800-669-4323.