The Brain Injury Alliance of New Jersey will present its Annual Gala at the Crystal Plaza in Livingston, NJ on Thursday, March 23, 2022.
The Gala celebrates the work of BIANJ and spotlights the contributions of leaders in our community who support people impacted by brain injury.
Join us for an evening of recognition, celebration and inspiration, along with music, a networking dinner, silent auction and more. You can participate by sponsoring a table, advertising in our journal, or purchasing tickets.
Your support will ensure that we can continue providing services for people affected by brain injury.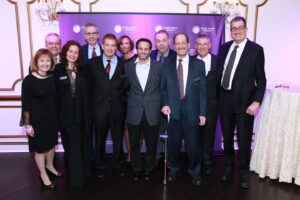 Wednesday, March 23rd
Crystal Plaza, Livingston NJ
6:00 pm – 8:30 pm
Mistress of Ceremonies
Becky Quick, Co-Anchor on CNBC's Squawk Box and Anchor of On The Money, has served as the Gala's Mistress of Ceremonies since its inception in 2007. Becky has a personal experience with brain injury and is dedicated to supporting BIANJ.
HEALTH & SAFETY INFORMATION
BIANJ is committed to providing guests with a safe, healthy environment. This Gala will follow CDC/NJDOH recommendations and shift to a virtual event if necessary.
Proof of Vaccination:
BIANJ will require guests to be vaccinated at least 14 days prior to the event and show proof of vaccination.
Masks:
BIANJ may ask attendees to wear masks when not actively eating or drinking, dependent on state rate of transmission and CDC/NJDOH recommendations.
Venue:
The Crystal Plaza is a large venue that well exceeds the number of Gala attendees. Guests will be sat at small, spaced-out tables during the program. The Crystal Plaza is following all recommendations of the CDC, which include all staff wearing masks, proper sanitation stations available for guests, and filtration systems that allow for 100% airflow, and refill the space with natural air.
2020
Robert Garrett, FACHE, CEO, Hackensack Meridian Health
Bernie Flynn, Past President & CEO, NJM Insurance Group
Nancy Chiaravalloti, PhD, Director of Neuropsychology, Neuroscience and TBI Research, Kessler Foundation
Jane and Joe Concato, BIANJ Volunteers
2019
Lori and Wallace Kyle, Caregivers and Past BIANJ Board President
Carolann Garafola, MA, Executive Director, Mt. Bethel Village
Susan and William Reilly, Caregivers, Sean Reilly TBI Fund
2018
Cathleen D. Bennett, JD, President and CEO, New Jersey Hospital Association
Carol Ann Giardelli, MEd, Director, Safe Kids New Jersey
Christine O'Brien, President, Insurance Council of New Jersey
2017
John Tiene, CEO, Agency Network Exchange
Barbara Gieger-Parker, Past President and CEO, Brain Injury Alliance of New Jersey
Benjamin Kurland, CEO, Allaire Healthcare Group
2016
Harrison J. Gordon, Esq., Senior Partner at Gordon & Gordon, PC
Erhardt Preitauer, Senior Vice President, Government Programs, Horizon BCBSNJ
2015
Bob Doll, Senior Portfolio Manager and Chief Equity Strategist, Nuveen Asset Management
Vincente H. Gracias, MD, FACS, FCCP, FCCM, Interim Dean, Rutgers Rober Wood Johnson Medical School
2014
Bruce M. Gans, MD, Executive Vice President & Chief Medical Officer, Kessler Institute for Rehabilitation
Richard S. Spengler, Executive Vice President & Chief Lending Officer, Investors Bank
2013
Roy Bavaro, DCH Teen Safe Driving Foundation
John K. Lloyd, FACHE, Meridian Health
Caroline O. McCagg, MD, JFK Johnson Rehabilitation Institute
2012 
Peter A. Inverso, Roma Bank
Al Maghazehe, PhD, FACHE, Capital Health
Congressman Bill Pascrell, Jr., New Jersey's 8th Congressional District
2011 
Stephen Jones, Robert Wood Johnson University Hospital
2010 
Ronald J. Del Mauro, Saint Barnabas Health Care System
Anthony J. Kuczinski, Munich Re
2009 
Paul Anzano, Esq., Pringle Quinn Anzano, PC
Steven Benvenisti, Esq., Davis, Saperstein & Salomon, PC
Corinne "Cookie" Slade, Founder & Former President, Rehabilitation Specialists
2008 
Gary S. Carter, New Jersey Hospital Association
Anthony G. Dickson, NJM Insurance Group
2007 
Richard Bagger, Pfizer
David Grubb, Perma
Amy Mansue, Children's Specialized Hospital
Show the Brain Injury Community Your Support
Sponsorship ensures that BIANJ can continue to provide vital programs and services for people with brain injury and their loved ones.
We're here to help. Call 1-800-669-4323.